Wednesday 25th of October 16:30 – 17:30 PM (CET)
In 2019, the EU Commission proposed the creation of a European Education Area. An initiative to promote collaboration at the EU-level with the objective to build more resilient and inclusive education and training systems by 2030. To look back on the progress made so far and assess the next steps needed, the EU will host a Mid-term review of the European Education Area on October 10th.
Join us, on October 25th, to debrief on this EEA midterm review.  QUEST will host an online session to recapitulate the key take-aways, and facilitate an expert panel discussion to talk through the achievements and failures of the EEA so far. An opportunity  for you to learn more about the European Education Area, hear the different perspectives on the matter,  and contribute to the discussion on how to collectively transform our education systems for the better.
This session is open to anyone active within the wider education and training community, or organisations and individuals  advocating for better education. We welcome those with or without experience or knowledge on the European Education Area.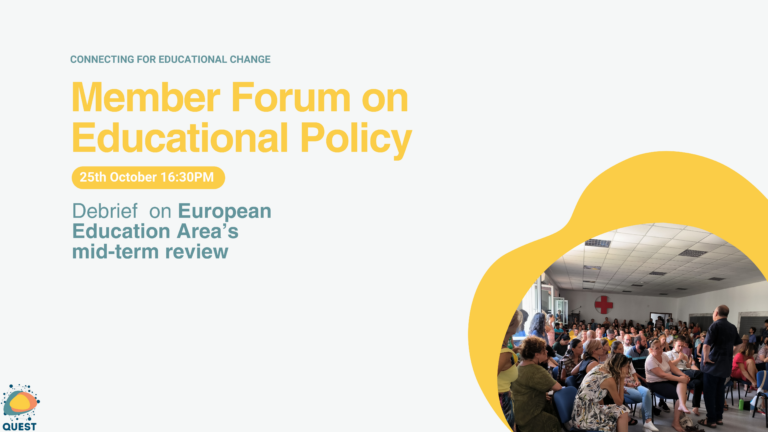 Agenda
Key take-aways of the EEA mid-term review 

Expert panel discussion


Q&A

Panelists

Andrei Frank, Policy and Advocacy Coordinator at The Lifelong Learning Platform. 
The LLLplatform is a network representing 44 European organisations, who share a common vision of lifelong learning to build more democratic and sustainable societies. As a network, the LLLplatform seeks to answer the most urgent needs, such as adult literacy, early school leaving and tackling the increasing educational inequalities.
George A. Dafoulas. Professor of Information Systems & Business Computing at Middelsex University 

As the Director of Programmes in the Computer Science Department, his research-informed teaching uses the latest education technologies for enhancing student learning experience. He received international recognition for the pioneering use of digital technology and blended learning pedagogies. 
Martina Paone. Coordinator at QUEST (Quality Education for Social Transformation)
The NGO director and head of research at QUEST, where – among other things – she coordinates a project on Democratic Education in State schools, a project on Democratic Education in Nature and a project on Sociocracy in School.