Thursday 19th of October 16:30 – 19:00 PM (CET)
Sociocracy is a method of governance that includes specific tools and processes to share power. Rooted in the principle of equality of individuals within a system, the sociocratic model applies collaborative decision-making, circular structures, and decentralised authority. Offering real change to the internal operations of organisations worldwide, sociocracy has been associated with more efficient collaboration, and more positive engagement amongst all stakeholders of the organisation.
If you are seeking new tools to promote active participation of students or teachers, and ensure that your school embraces every voice, we invite you to join this workshop on Sociocracy in schools. This online training, led by Martina Paone (coordinator of QUEST, Sociocracy for All Academy 2023)  is a unique opportunity to learn about the concept of sociocracy applied in schools, and receive practical guidance on implementing these tools in your own school.

This training is open to students, teachers, school, or other educational actors. We welcome those with or without knowledge or experience in sociocracy. This event is part of a two-day training on Sociocracy. There will be a more general training on Sociocracy in organisations and communities on October 17th. You are welcome (yet not obliged) to attend both trainings.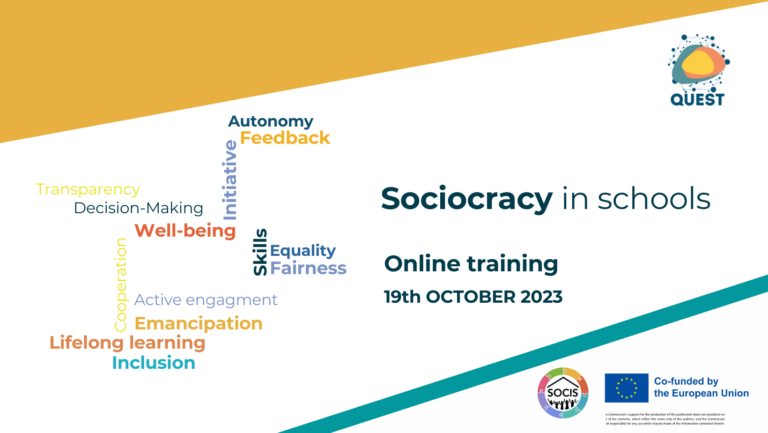 Agenda
Introduction to Sociocracy

Key principles of Sociocracy

Why Sociocracy in schools?

Presenting different sociocratic schools

Some practices to apply Sociocracy with children

Q&A and Discussion