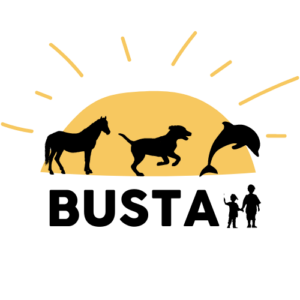 BUSTA (Building Skills through Training therapy Animals)
Duration:
24 months, from the 28th of February 2022 until the 27th of February 2024.
Objectives:
The project has the following aims: 
Empower teachers to promote students' talents through innovative pedagogy.
Empower teachers to promote students' active real-world participation and inclusivenessthrough awareness building and psycho-affective connection.
Empower students' capacity to develop curiosity, work with challenges andco-design creative solutions.
Empower students' capacity to use digital toolsand content to exchange practices with partner schools.
Summary:
In order to adapt educational processes to the challenges of the 21st century, schools need to rely on innovative and practical methods, involving students in challenging activities and combining new educational needs with existing educational curricula aimed at creating active, inclusive and responsible citizens. In order to put this approach forward, transversal skills need to be fostered in the school ecosystem to allow a more transdisciplinary, learner-centered and challenge-based approach. Therefore, teachers and school personnel need to reinforce the development of key competences. With the BUSTA project students will have the opportunity to have real life impact that goes beyond the boundaries of the school, on the lives of persons with disabilities: they will develop research and cooperative actions to integrate service animal training.
Target Groups:
Students
Teachers and school personnel
Animal therapy providers
Persons with disabilities
Activities:
The project will develop three core elements:
A documentary video reflecting upon the research process conducted by students: awareness activities to understand the content and purpose of each animal training as well as to understand the different types of disabilities supported by each therapy; and actions to identify the training needs of each partner as well as transfer knowledge and experience.
Impact & Reproductivity Report: assessment of the development of skills and analysis of the drivers and barriers to the up-scaling of this process
Guidelines on how to integrate skill-building in schools through animal training, targeted to: schools, animal therapy associations and organisations for persons with disabilities
Partnership:
Lithuanian Sea Museum (coordinator) (Lithuania)
Klaipedos Marijos Montessori mokykla-darzelis (Lithuania)
Community for Democratic Education (Bulgaria)
Paint and Quarter Horse Foundation (Bulgaria)
Quality Education in Europe for Sustainable Social Transformation (QUEST) (Belgium)
Call:
This project is under the KA2 COOPERATION PARTNERSHIP PROJECT n° 2021-1-LT01-KA220-SCH-000034363 call.
"This project is funded with the support of the European Commission. This publication reflects only the personal views of its author and the Commission cannot be held responsible for the use of the information contained therein."
Contact:
Mia Schmallenbach, Project Manager (QUEST): [email protected]